Welcome
---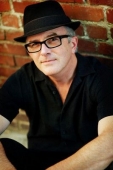 My love for homes & architecture evolved from an admiring passion into a career as a Real Estate professional. Beginning that career in Los Angeles I was fortunate enough to be exposed to some of the world's premier Mid-Century Modern homes & quickly specialized in the genre. After moving to Fresno to be near my family, I discovered the wealth of spectacular MCM residential & commercial architecture we are so fortunate to have here & created FresnoModern.com, a site devoted to our 50's & 60's Modern homes & buildings & the culture that surrounds it.
Proud to have established myself as the Fresno Modern guy, I made the transition from Realtor to Broker & started my own company – Fresno Modern Real Estate. The answer to the question frequently asked is "YES!" Besides specializing in everything Mid-Century Modern, I represent sellers with every style, genre, age and location of home. If you are a buyer looking for a Mid-Century Modern, 50′s or 60′s Ranch, or any style home, I and/or a buyer professional on my team will be happy to assist you in finding the home of your dreams.
Please feel free to give me a call for any and all Real Estate questions & needs you might have, & I look forward to a long & committed relationship as your Broker/agent.
Eldon Daetweiler, REALTOR®
Broker/Founder
fresnomodern@gmail.com
(559) 960-3229